WTCAF Annual "Peace Through Trade" Competition
The World Trade Centers Association Foundation (WTCAF) hosts its annual "Peace Through Trade" Competition, which is a program designed to identify and inspire the next generation of entrepreneurial leaders from the 320-plus cities where a WTC is located. Members from the World Trade Centers Association's (WTCA) global network spanning nearly 100 countries have the opportunity to submit projects from local students to compete in the program. Representatives from World Trade Center (WTC) member cities are encouraged to nominate student teams from their region to present original projects, products, or other innovative ideas that exemplify and promote social innovation and sustainability through collaboration, fair trade, and ethical international business practices. Projects must also address at least one of the 17 United Nations Sustainable Development Goals, such as no poverty, zero hunger, and sustainable cities and communities.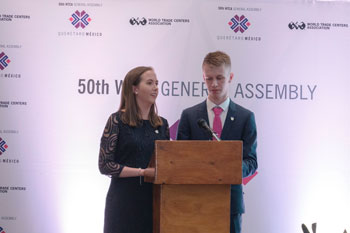 For the inaugural competition in 2019, WTC Dublin submitted the winning project, Moyo Nua, a student-led project aimed at revolutionizing the agricultural practices of developing countries. Founded by students Jack O'Connor, Catherine Hallinan, Seamus Hurley and Aoife Hand, Moyo Nua designed an ergonomic seed planter for smallholder farmers in Malawi made from local materials. The team presented their project onstage in Querétaro, Mexico at the WTCA's 2019 General Assembly — the association's annual gathering of more than 500 representatives from member WTCs, foreign trade delegations, and local companies.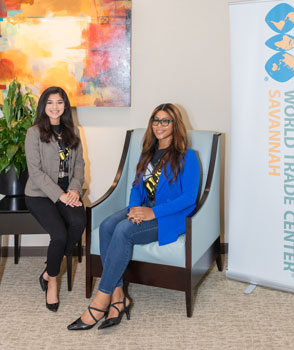 In September 2020, the WTCAF announced Savannah, Georgia-based Foster Beelief as winner of the second edition of the competition. Founded by Savannah State University students Sade Shofidiya, Jennyfer Dayan Vivas Gomez and Karen Perez, Foster Beelief works to promote sustainability through the education of the at-risk honeybee population, increasing STEM interests and environmental stewardship, building stronger industry and community partnerships, and increasing citizen involvement in communities. WTC Savannah submitted the winning team. Due to the ongoing COVID-19 pandemic, it is yet to be determined when the winning student team will present their project and engage with the WTCA members in-person at an upcoming WTCA General Assembly. The 2020 competition's first runner-up team is ReNu Hygienics, submitted by WTC Winnipeg. Led by University of Calgary and York University students Parker Easter and Silas Lee, ReNu Hygienics focuses on upcycling bars of soap from soap that would have otherwise been thrown out by local hotels, and providing them to those less fortunate who need them. The second runner-up team is Agro-preneurs, submitted by WTC Mumbai. Led by students Ishita Joshi, Ashi Gala, Karan Patil and Kalpesh Patil, Agro-preneurs aims to bridge the gap between farmers and investors all over the world, providing farmers with the best quality resources to yield the best quality harvest through capital from investors.
---